Inspired by many of the works of prolific Norwegian dramatic playwright Henrik Ibsen – including The Doll's House, Peer Gynt, Hedda Gabler, Ghosts and An Enemy Of The People – the show Ibsen In One Take has been described as an avant-garde exploration of theatrical convention in China that defies artistic and technical expectations. While integrating characters and themes from classic Ibsen works, audiences will see the powerful story of a lonely Everyman as he lives out his last days recalling his life gone by, all while being filmed live on stage and projected onto a screen above.
Director Wang Chong is in the rehearsal room in Beijing, China as we speak over the phone.
"Although we have travelled internationally, Australia is a completely new country for us and we really look forward to what the audiences will think about our work so we are very excited about coming there for OzAsia," he begins. "We hope in the future we can take this work everywhere in Australia but this time, unfortunately for us, it is Adelaide only."
Chong gives us a brief rundown of the story:
"Henrik Ibsen still has a lot of influence over European and international theatre. He also influenced Chinese theatre a lot, 100 years ago. That is why we are interested in his writing. Ibsen has written 26 plays and what's so special about our work – Ibsen In One Take – is that we are taking all of those stage texts and incorporating elements from each work to create a completely new story about one man's life. There are all new characters, themes, relationships and lines.
"Ibsen In One Take has a pun in there," Chong suggests. "One Take means you can take everything of Ibsen and put it into one work. It also references that we are creating a movie with only one long take on the stage. The audience will get to see this movie about one man's life, which is projected on the screen above the stage. You will also see how the actors and cameramen work altogether – in front of your eyes – to create such a movie."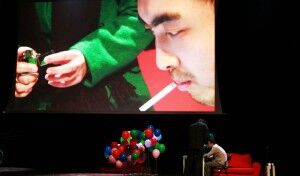 What was it that drew you to Ibsen's work?
"I came up with the concept and story with Norwegian playwright Oda Fiskum, who has lived in Beijing for the past five years," he replies. "Together we created the story of one dying man on a hospital bed, reflecting his whole life by walking, again, though his memories, imaginations and dreams as his life flashes back through his mind. So this movie is about his whole life, reflected in the mind. This is really a moment in existence that every person will go through in his or her life. There are ups and downs in this man's life – same as everybody's – and we all can experience the things that he has experienced in his life."
This is about reminiscing on happiness, regret and what-ifs.
"Yes," Chong agrees, "and also the very important relationships in his life: first love, happiness with his wife, breaking up, childhood memories like the traumas that his father caused, his reconciliation with his parents. These are the important moments that he remembers in the last minutes of his life. It's something that really intrigued me when I created this. It's always the biggest trauma from your childhood, or the most precious thing that you've ever experienced in your life, at the last moments of your life. That's something that should be investigated in the Arts."
What is the visual effect that the audience get from looking at both live theatre and simultaneous projected scenes?
"The audience will see the movie on the screen plus the creative process; the working crew and actors creating and making that movie live on stage. The process must be interesting for the viewers because you constantly switch your eyes from the screen to the stage and back again. I think contemporary audiences are very good at multitasking because it is what we do in our everyday lives," he says. "One minute you are looking at Facebook on your computer, and then you look at your phone in the next. This is the world – the reality – we are living in, so I wouldn't think that looking from stage to screen is a problem for people. I would rather say that this is the aesthetic for theatre in the contemporary world. I hope Australian audiences like it as much as people did in other parts of the world.
"So far we have had huge success in Rotterdam, the Netherlands and, of course, China. Before bringing it to Adelaide we will perform at the Oslo International Ibsen Festival, which is the world Ibsen festival," Chong says. "It's very prestigious and we feel very lucky and happy to be a part of it because this year there are only two shows that are not from Western Europe in the festival – we are one of them."
Where did this concept of live stage and live video combined come from?
"It was statistics that inspired me," he says. "I read that the average man in our time would watch a screen for eight hours everyday – computer, mobile phone, movie screen and TV – versus 20 minutes reading from paper. So this is the reality we all live in. The watching experience has replaced reading to a large extent in our time, so watching something on the screen could be very interesting, even in this conventional form of theatre. So we've tried to incorporate the screen and live video into the theatrical process and it was a huge success!"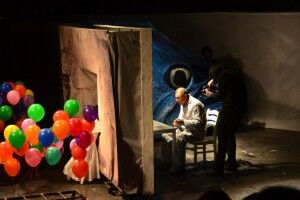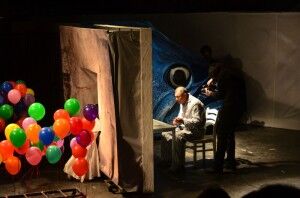 Would you mind telling us what is happening in the picture above?
"That girl, whose name is Pigtails, represents the dream of that special person every man imagines living his life with but never meets in real life," Chong explains. "The old man sits in his hospital room looking for and imagining this girl. The cameraman in the black is shooting the process which is viewed on the screen. So the camera is really a strong language to direct the audience focus and to tell something cinematically as it leads us into different stages of the man's life. We borrow a lot of cinematic language from film."
What exactly is a lonely Everyman?
"Unlike normal drama, in Ibsen In One Take no-one has a name. In a way, everybody is an Everyman, and each would feel just as lonely at the end of their lives. Toward that end there would be only you walking through, contemplating about your whole life. But this loneliness can manifest the ultimate memory, the ultimate thinking, about your whole life. It's that particular moment that really intrigues me."
Wang Chong informs us that the show will be performed in Chinese but with English surtitles; as is with all of the company's productions. We also discuss the French-named theatre group Théâtre du Rêve Expérimental which, translated into English, means Experimental Dream Theatre.
"We came up with this name because we were going to Quebec to perform at the time that the company was founded. We wanted a French name which sounded really exotic," he chuckles. "But we also have a Chinese name at the same time – 薪传实验剧团– Heritage Experimental Theatre which also translates into Experimental Company That Also Inherits From Great Artistic Tradition. It's quite an ambitious name [laughs]."
Is there anything else you would like to tell the readers of Adelaide?
"I think the biggest thing in the performance is the live video one-take approach which is quite is quite spectacular to watch onstage," Chong concludes. "This is something that I would really recommend people to come and take a look and tell me what they think of the show. It's out first time to Australia and I really look forward to meeting people – artists and audience alike – and very excited to check out Adelaide. We will see you all soon."
Ibsen In One Take performs at Space Theatre, Adelaide Festival Centre, from 7pm on Tue Sep 16 until Wed Sep 17.
Book at BASS on 131 246 and www.bass.net.au.