Festival Theatre, Fri 26 May.
Inspired by the legendary author Roald Dahl, Matilda The Musical premiered on London's West End in 2011 and has since won over 80 international awards, including a Tony Award for Best Book of a Musical for Dennis Kelly and a Helpmann Award for original score for Tim Minchin.
The style of Tim Minchin's honest and often hilarious lyrics matches magnificently with Roald Dahl's dark comedy about an extraordinary five-year-old girl who overcomes obstacles with her ostentatious family and terrifying school headmistress, Miss Trunchbull. The music and lyrics take the listener on an emotional rollercoaster, somehow seamlessly making you laugh, then cry and then cheer all in the same song. There are plenty of memorable songs too, such as, Naughty, The Hammer, When I Grow Up and The Smell Of Rebellion. Tim Minchin is an absolute genius!
Matilda The Musical requires not only a solid adult cast, but a confident, meticulous and talented children's cast and at tonight's Adelaide premiere, the cast of children, led by Izellah Connelly as Matilda, absolutely blew the audience away. Dominic Ambrose as Bruce and Alice Lowther as Lavender also provided some great laughs. The children not only acted and sung well, but performed choreography with such precision and infectious energy, which helped remind the adults in the audience of the joy of childhood playfulness.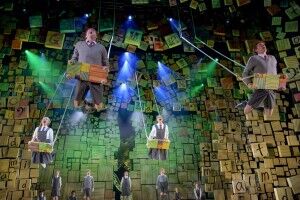 The adult cast suited their characters perfectly with Lucy Maunder portraying a touching Miss Honey in complete contrast to James Millar as the hilariously disturbing Miss Trunchbull who flings children into the air by their pigtails and believes her students are all disgusting maggots.
Every element of the staging, set, costumes, sound and lighting were faultless and ensured the pace is fast and the overall show completely engrossing. The set as the audience enters the Festival Theatre is striking, but once the action on stage begins, it starts to blend to the background.
The show has sold well already and arrived with a lot of hype around it, but the hype is totally warranted. Matilda is seriously the best musical to hit the Adelaide stage in years! Don't miss your opportunity to see this incredible show being performed by an outstanding cast and orchestra.
5 Stars
Bobby Goudie
Matilda The Musical continues Festival Theatre, Adelaide Festival Centre, at various times until Sun 16 July.
Book at BASS on 131 246 or bass.net.au Click HERE to purchase your tickets.
Images courtesy of James Morgan
Presented by The Royal Shakespeare Company and Louise Withers with Michael Coppel and Michael Watt plus Adelaide Festival Centre
The Clothesline Rating...
Seriously the best musical to hit the Adelaide stage in years!