by Catherine Blanch.
For over two decades Max Pellicano has been entertaining Australia and the world with his Elvis To The Max concerts. Born in Monte Carlo, of French and Italian parents, Max has been a professional actor and entertainer since he graduated from the California State University with a degree in Dramatic Arts in 1974. With over 6000 professional Elvis Presley impersonators around the world, and countless amateurs, Max has proven himself to be one of the world's finest and most successful re-creator of "The King" in looks, vocal style and moves.
Max Pellicano is looking forward to returning to Adelaide with his Elvis To The Max – The King In Concert Tour for one show only. Max has been here many times. In fact, he made his start in Adelaide.
"Many, many years ago – we won't say how many – I used to play the Hotel Adelaide," he begins." They were good days back then. I was kind of the first Elvis impersonator from America to come there, so it was novelty. I think Eddie Youngblood was also doing Elvis in Australia, but he was really the only one."
Doing something that is so close to the real thing, do you often find people getting caught up in the fantasy of it all?
"Yeah, that's the fun of the Elvis show – people come and offer scarves and things like that; it's what makes the performance live and real," Max says. "When the audience members get involved, they really make it happen; this show has always been more about them than anything else. Sometimes security guards try to stop people from coming up, but I find the interaction with the audience the best part of the show."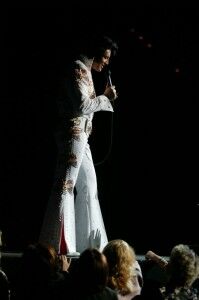 You began your performance career as an actor. How did this turn into a life of being Elvis?
"I was in a musical called Bye Bye Birdie where I chose to play Conrad Birdie as an Elvis-type character," he explains. "Following that, I was doing an Elvis show in San Francisco. Someone offered me a spot in Hawaii at Waikiki Beach for two weeks and I ended up staying there for three years. I was then asked to audition for Legends In Concert, which I performed in Las Vegas for a while before deciding that I wanted to see the world, and it all went from there.
"My guitarist, who used to play for Andy Gibb, suggested that we head to Australia, and I've been coming back almost every year since.
"I've been really fortunate with what I do. I've met a lot of people and made many friends in Australia," Max says. "But, like I said, the shows are really about the audience – and that's what Elvis did so well; he related to the people so much when he performed that they all felt like they knew him, which is why women wanted to go up to the stage and kiss him and things like that."
But Elvis also very much saturated the TV, radio and theatre during his time.
"He certainly knew how to work an audience, and that's what I try to emulate. I'm not really an impersonator as much as an entertainer; I try to go out there and just become Elvis as an entertainer, not a caricature.
Do you walk and talk like him?
"I do, but I rarely say the things that he used to in his concerts, because if I do that, you may as well just go buy an Elvis video and watch it at home," he jests. "People want to see a real live performer – an entertainer that has fun with the audience and is flying by the seat of his pants with the show being created by the requests being shouted out at you. That's really what a live performance is."
Tell us about your band.
"I have a good-sized band of about twelve pieces, including four singers – which is pretty powerful. They're all Australian as well," Max says. "Most of the guys are from Sydney, as well as a couple of guys from Adelaide. I travel by myself and like to use the phenomenally talented musicians that are here in Australia. The musicianship in Adelaide is tremendous!"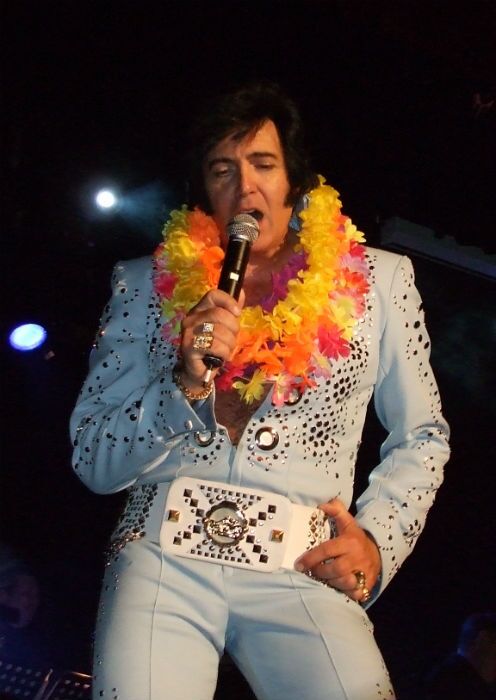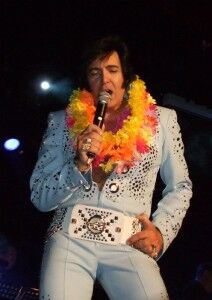 Elvis To The Max concerts are normally performed in three stages – the '50's Master's, the '68 Television Comeback Special (regarded as the forerunner of the 'Unplugged' concept) and the Aloha From Hawaii music concert – but this time Max is doing things a little differently.
"There are so many songs that I can't do when sticking to that format, so now I'm doing the songs from his live concerts during the jumpsuit years. I touch on the That's The Way It Is and Madison Square Gardens concerts during the first half of the show, and then the Aloha concert for the second half. All of those are his biggest live performances."
Even having sung them a million times, do you still have any favourites?
"Oh yeah," he enthuses, "I love Suspicious Minds and Can't Help Falling In Love, but Burning Love is my favourite. Elvis had so many hits, so the catalogue is endless. People rarely got to see Elvis' real concerts; they just saw the big TV productions where he was kind of nervous and didn't let loose. But in a lot of his bootleg concerts that I own, he was real different – just having a lot of fun all night."
Max proudly wears exact replicas of many of Elvis' costumes.
"They are all made from Elvis' original patterns; every stone is set exactly the same so you can't get them much more authentic than that! When Elvis' tailor died, the guy who worked for him bought all the patterns; he's the one making all the amazing costumes for me."
What do you do outside of you "Elvis" life?
"I lounge!" Max laughs. "I'm kinda like Hugh Hefner; I just sit around wearing a bath robe all day.
"But still, after all of these years, I'm having more fun than I've ever had," he adds. "When I was younger, I worried about the pressure of having to do so much, but now I just feel like myself and we're doing all of this for fun and having a great time with it. I'm very relaxed and not feeling the pressure – which is a good place to be."
Adelaide is the final concert of the Australian tour. Will you be staying around for a while to do some more lounging and drink some wine?
"Oh my God, yes!" Max says. "I've got so many friends in Adelaide, including guys in the band that I haven't seen for many years, so we'll all be getting together for a big meal after the show, just hanging out and having a few beers.
I can't wait to get back to Adelaide," he concludes. "It's the last show so it's going to be a lot of fun. We're going out with a big bang!"
Max Pellicano performs Elvis To The Max in The King In Concert at Adelaide Entertainment Centre Theatre from 8pm on Sat 26 Sep.
Book at Ticketek on 8208 2222 and premier.ticketek.com.au. Click HERE to purchase your tickets.