The Fisher Chapel, Scotch College, Fri 28 Jul.
Based on the single-panel cartoons by Charles Addams, The Addams Family the musical opened on Broadway in 2010 and premiered in Adelaide with Matt Byrne Media in 2014. The ghoulish characters of Gomez, Morticia, Wednesday, Pugsley, Lurch, Uncle Fester, Thing and Cousin Itt would be remembered by many audience members in the various television and movie adaptions of The Addams Family over the years. Presented by Scotch College, this high school production does a wonderful job of showcasing the fantastic music and lyrics by Andrew Lippa and book by Marshall Brickman and Rick Elice. The musical is based around Wednesday Addams having grown up and fallen in love with Lucas, a sweet young man from a respectable Beineke family who are forced to spend a night with the disturbing and strange Addams family.
Scotch College has an enormous group of talented students and have two casts (Creepy Cast and Kooky Cast) performing the musical on different nights. The Creepy Cast had the daunting task tonight of opening the production and once some of the initial nerves settled, they provided the audience with an enjoyable night out.
Ris Mosel as Gomez and Onor Nottle as Morticia sang and danced well, but what was most impressive was their characterisations and commitment to their roles. Ned Baulderstone presented a charming, flamboyant Uncle Fester and appeared confident and comfortable whenever he was onstage. Isabella Mennillo as Wednesday and Jack Raftopoulos as Lucas Beineke did well to both contrast each other as required by the script and also had some endearing chemistry together.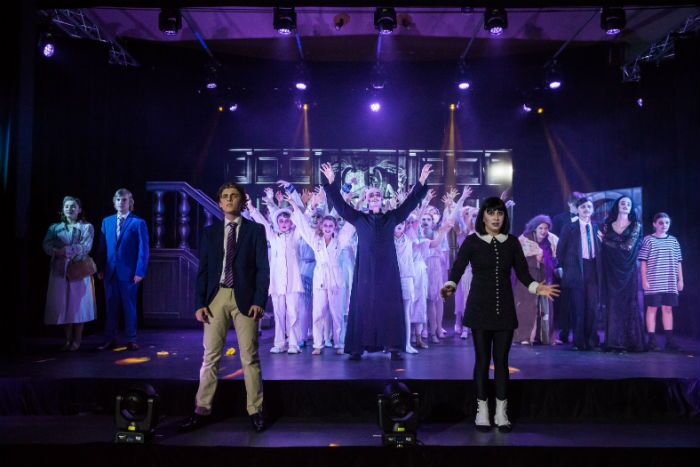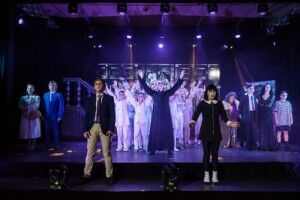 Olivia Sutton (Pugsley), Felix Setchell (Lurch), Issy Darwent (Grandma) and Charlie Ryan-Kane (Mal Beineke) all presented well-developed characters and worked hard to give the audience maximum laughs. A special mention must also go to the hilarious Laura Williams who was fully committed to her delightful character, Alice Beineke.
The nine dancers (Dancestors) presented Linda Williams' more advanced choreography with ease and the whole ensemble and orchestra have put in a huge effort to learn Andrew Lippa's challenging music. The harmonies are particularly difficult and hopefully with more performances the cast will feel more comfortable with their parts and the sound will be more balanced.
A huge amount of effort, time and skill has been put in by the staff and parents to make this production a success. The students in the orchestra and on-stage should be congratulated for this high-quality performance.
3.5 stars
Bobby Goudie
The Addams Family: A New Musical continues at The Fisher Chapel, Scotch College, at various times, until Sat Aug 5.
Book at trybooking.com.au or 08 8274 4210. Click HERE to purchase your tickets.
Images courtesy of Tim Allan of TA Media
The Clothesline Rating...
High quality musical adaptation of a popular television program.